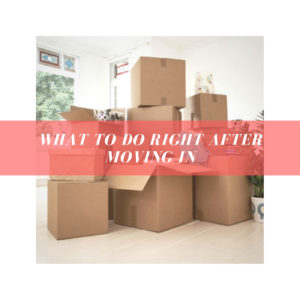 You've sold your home, gone through the ordeal of moving, and are finally in your new home- but now what?
You may be tempted to conduct major renovations, but it's important to live in the space for a while first. Here are the first things you should do after calling your new place "home."
Utilities
Ensure all of the utilities have been properly transferred over. This includes gas, water, electrical, trash, and sewer. You can double check to make sure they are all in your name by turning them on and making sure they're functioning.
It's also important to plug in the fridge and any other appliances that may have been unplugged during the move. Make sure they're all functioning so you can eat!
Pets
Moving can be very difficult for a pet, as they generally don't understand what's going on. During the move, isolate them in a quiet and calm room with their food, blankets, toys, and treats.
Locks
Get the locks changed as soon as possible. Who knows how many keys the previous owners gave out? Locksmiths make house calls and can even install deadbolts if they are not already set up.
Consider installing a security system as well, as this can help calm your nerves in a new place.
Address
If you want people to know where you are, you need to change your address. Mail will likely get mixed up for a while, so make sure the post office knows where to find you. Additionally, be sure to change your online address for any credit cards that you're using.
Wi-Fi
The internet is not just used by computers. Make sure you have Wi-Fi set up for all of your tech appliances.
Comfort
Moving can be extremely stressful, so it's important to do what makes you comfortable. Order in food for yourself and those who helped you move. Whether it's Italian or Chinese, pick the cuisine that makes you happy.
It's also essential to set up the beds and know that all of the sleeping arrangements are taken care of. Make sure the movers have properly assembled the beds and that you have access to sheets and pillows.
Neighbors
Put in the effort to talk to your new neighbors and set a good tone with them. Hopefully they'll bring you cookies to say welcome!
Source: the balance