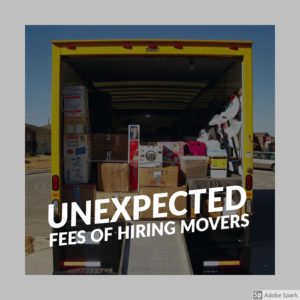 There's so much wrapped up in the cost of hiring movers, and it's easy to overlook some of the expenses. Before making the decision to have a moving company help with your transition, it's crucial to know the costs involved so you can budget accordingly.
Here are some of the unexpected fees of hiring movers:
Packing Help
Packing is easily the most tedious part of moving. This is why some movers will take it off your hands, with many moving companies offering a packaging fee for the service. If you'd like to get your most valuable possessions taken care of, think about crating. Unpacking services are generally also available for an additional cost.
Transporting Furniture
Bigger furniture can be difficult to move without taking it apart. If you don't want to deal with the hassle of doing this yourself or are concerned about doing more harm than good, you can request your movers to do it for you. Once you are at your new home, movers can build your furniture again.
Extra Work that Could Lead to Extra Money
Some circumstances that the movers have to overcome could lead them to charge you more. This could include electrical appliances, particularly bulky possessions, a long distance from the truck to the house, extra stairs, waiting for an elevator, or going between multiple locations.
Going Through the Window
It's possible that your personal belongings won't be able to go through the door of your new home. If that's the case, they'll need to engage in rigging, which means utilizing a pulley system to get your things through a window. This usually incurs an extra fee.
The Moving Truck
Your possessions may be combined with others' if you are moving a long distance. If you'd like the truck for yourself, you can pay for that. However, it could take much longer for your items to reach you.
Scheduling Problems
If you can't be there to meet the movers at your new home, they may charge you. Whether it's waiting for you or the movers will need to place your belongings in storage, it could come out of your wallet.
Source: Zillow