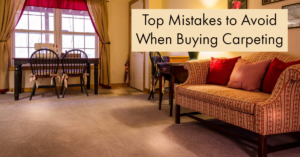 Buying carpeting is not something many people do with frequency- in fact, most will only shop for it a few times in their lives, if that. As a result, many consumers don't understand the process that goes into buying carpeting- and the common mistakes to be avoided.
If you're planning on buying carpeting, here are a few missteps you should watch out for:
Focusing on Weight
Don't assume that a carpet with a higher face weight is better than a carpet with a lower one. There are too many other factors that come into play when determining the overall quality, from twist to density, and many salespeople are either too uninformed or too indifferent to explain this properly to customers.
Incorrectly Calculating Square Footage
Calculating carpet requirements is much more complicated than simply adding up the square footage of your rooms. You'll have to consider the width of the roll of carpet and the direction of the carpet pile, for starters. If you've measured incorrectly, the true cost of the project will not be able to be determined until you've had a professional visit your home.
Skimping on Underpad
Underpad saves wear and tear on your carpet by absorbing the impact of foot traffic so the carpet doesn't have to. Not only will a better grade underpad feel more comfortable to walk on, but it will also help your carpet look better for a longer period of time.
Assuming They're All the Same
Just because two carpets look and feel the same doesn't mean they'll perform the same. When comparing different products, consider the fiber, the style, and the quality. Be sure to also consider the manufacturers' warranties.
Choosing the Wrong Carpet for Your Lifestyle
The type of lifestyle you lead and the conditions of your household should greatly influence your carpet choice. Unfortunately, the carpet we need may not always be the carpet we want. It can be easy to be swept up in the images shown in magazines, but before you run out and buy that white carpet, consider if it will actually work with your lifestyle.
Source: The Spruce