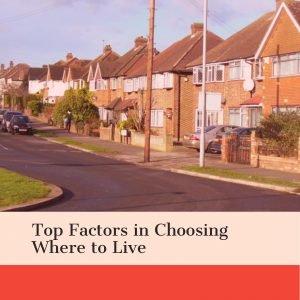 If you've decided that you're ready to move, congratulations! While it can be trying at times, the process of moving into a new neighborhood can be thrilling, and you might find that your new neighborhood will be the place to stay for a long time. Before buying anything, though, you'll first need to have the right area in mind. It doesn't matter whether you're moving to a different country, state, or township- you'll need to do your research make sure the neighborhoods you're considering are up to par.
Here are the top factors in choosing where to live:
Affordability
Regardless of your pay grade, your first concern should be your ability to live comfortably and within your means. Affordability means everything from the price of gasoline, to housing expenses, to the prices of consumable goods. The affordability of living in midtown Manhattan will be significantly different than that of dwelling in Santa Fe, so consider your salary and max spending limit.
Taxes
It's no secret that New Jerseyans pay some of the highest taxes in the U.S., but as a result, its residents are able to enjoy high-quality public education and easy access to New York City, Philadelphia, and the Jersey Shore. When considering potential areas to move to, keep in mind the relative tax rate along with what you'll get out of paying a particular amount in taxes.
Employment Opportunities
Assuming you're not moving for a new job, and would like to find new work in the area of your choosing, you'll need to consider your employment prospects. If you're an investment banker, for example, you might have trouble finding work in southern Mississippi, whereas freelance consultants that work from home can live essentially anywhere (so long as they're not 10 time zones away from clients). Income levels for jobs also vary greatly from state to state, so keep that in mind.
Crime Rates
Nobody wants to live in a high-crime area, but not every desirable area will have the lowest possible crime rates imaginable. By checking out the crime rates and statistics of various areas, you can learn more about the safety of a town or neighborhood and determine whether they're suitable for you. Some people place safety as a top priority, while others aren't quite as concerned. Wherever you fall on the spectrum, make sure your needs will be met.
Proximity to Family and Friends
Whether you spend the holidays with friends and family or prioritize seeing acquaintances on a monthly basis, you'll need to consider your proximity to family and friends. It's possible that such a factor doesn't play into where you'll be moving, but you might find that it's easier to make new friends in some areas than others. Don't move to the middle of nowhere unless you're confident that the area meets your demands and will allow for a happy living situation.
Source: Money Crashers