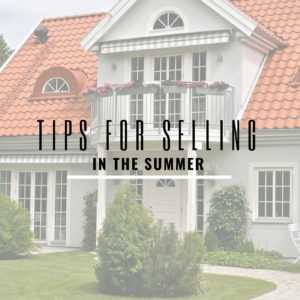 There's still a little under a month of summer left! That means that if this is the season you would like to sell your house, it's time to get moving.
While summer can be slightly more difficult of a time to sell because people are away, there are a ton of ways to compensate. Here are some tips to ensure you're successful in selling your home this season.
Outside appearance
Keep your home looking sharp from the curb. Make sure to mow your lawn about twice a week, as grass grows more rapidly in the summer. But don't stop there: trim the bushes, plant flowers, and disseminate mulch. It's also important to ensure your entrance looks inviting: keep the pathway clean.
Consider moving furniture outdoors as well. It will make your backyard seem much more cozy and homey.
Inside appearance
Channel summer colors. Use blue for relaxation and bright tones rather than deep-hued decor. You also need to capitalize on natural light. Get rid of heavy drapes and thick curtains.
Use metals to create some sparkle! Get some cute metal decorations to scatter throughout your home.
The showing
People keep different schedules during the summer than the rest of the year. This means you should be flexible with when you show your home. For instance, some people might want to leave work early and therefore come see your home around twilight.
Refreshments
Buyers will be grateful for any opportunity to cool off from the summer heat. Try putting ice cubes in your sink to keep cool beverages- and don't forget snacks!
Appealing smells
Everyone wants to walk into a home that smells nice. Use natural fresheners, rather than artificial ones. For example, you can cut some roses from your garden.
Comfortable temperatures
There's nothing more valuable on a summer day than cool air! If it's really hot out, set the temperature even a tiny bit lower than you normally would. This will keep potential buyers checking out your home for longer than they would have under regular circumstances. If air still isn't flowing well, you can even place some fans around.
Source: the balance