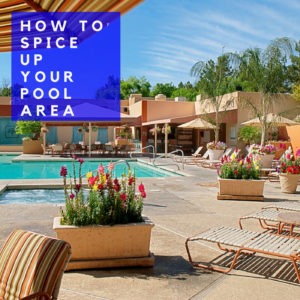 While the summer's almost over, there's still time to enjoy your pool! There aren't many ways to enjoy the season quite like sitting poolside, enjoying a drink and the sunshine, and you'll want to experience it before the fall.
To make your pool area as relaxing and fashionable as possible, check out these tips for spicing it up:
Shade sail
Replace the typical poolside umbrella with a shade sail. Not only does this give your outdoor space a more bohemian vibe, but it won't block your view!
Channeling different environments
Add some elements of paradise to your space. Use things like fake rocks, wooden diving boards, and planters. These features will transport you to an exotic getaway, without lightening your wallet on flights and hotels.
If you prefer a more zen vibe, use decorative stones or pebbles to mark the boundaries of your pool. You can also build a stone wall instead of a regular pool wall to create a more natural environment.
Furniture
Pools aren't just for swimming; they're also for lounging around! But don't just sit on a towel next to your pool. Indulge in some furniture to lay around on all day. Consider doing this with a pergola, with some extra shade and space for sunbathing.
Nature
Use plants to create a wall for privacy and serenity. Consider bamboo, bonsai, and hedges. Flowerpots also make for a beautiful space, and be sure to spread them out throughout your pool area, rather than keeping them in a cluster.
Lights
There are a few ways for light to create mood by your pool, from installing lanterns to LED lights. These can emphasize the length of your pool and create a wonderful ambiance that'll make it hard to pull away from.
Source: 1001Gardens