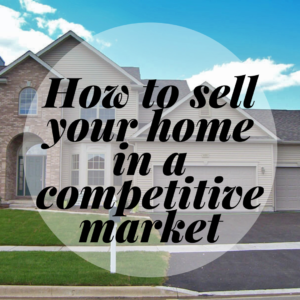 Selling your house in a fast-paced, competitive market can be a bit scary, but with the right mindset and work ethic, you can find a buyer at the right price in a short amount of time. By making small improvements and taking proactive steps towards marketing your home, the home-selling process can be made much easier.
Here are a few tips for selling your home in a competitive market:
Research your market
Make sure you truly understand and are knowledgeable about the current real estate market. Take a look at comparable homes that have recently been sold and those that are still on the market. See what the different mortgage rates are and where the overall real estate market has been heading. Have the prices, real estate inventory, or mortgage rates risen or fallen over the past few years?
Be objective
The decision to sell your home can be an emotional one. However, the less you think of your home as "your home" and simply as an object you're choosing to sell, the more you'll be able to approach the process rationally. That way, you can be flexible if difficult market conditions arise and allow the market data drive your pricing decisions, which will result in the optimal outcome.
Stage your home
If you can, try to remove personal belongings from your home and professionally stage the property. However, if it's out of your budget, just make sure your home is neat and clean, and perhaps take on some of your own DIY initiatives. First impressions matter- there's no question about it. A grimy bathroom or chipped paint may make the difference between selling your home and holding it onto it longer than you'd like.
Be patient
Because your home is in a competitive market, you're going to have to make some tough choices. Are your willing to have your home sit on the market for months at a time in order to get the price you want, or would you rather price your home better than the competition if you need to sell fast? Understand that you may have to wait for a few months in order to sell your home at your desired price. There are many homes that sell at a premium price, and quickly, but that usually occurs in a seller's market.
Be flexible
Due to the competitive market your home is in, you may have to make some sacrifices. Difficult restrictions such as 24-hour notices on showings or open houses will reduce the amount of traffic to your home. You'll want to make it as easy as possible for purchasers to see your home, even on short notice; after all, the more eyes you have on your home, the more likely it is that you'll be able to sell it.
Selling a house in a competitive market is difficult, but with these tips and tricks, it should be a little bit easier. Good luck!
Source: Expert Beacon