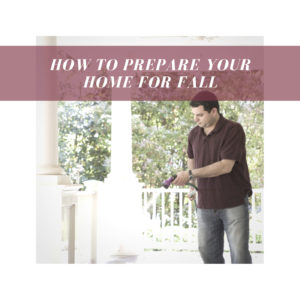 It's the end of September, and the temperature is finally starting to drop. The leaves will soon change color, which can mean only one thing: fall is right around the corner!
Different seasons require different kinds of upkeep for your home. While the weather is still nice, get your home ready for the fall:
Cracks
Take advantage of the drier weather to repair cracks in concrete or asphalt. This will really spruce up your driveway and walkway.
Gutters
It's important to clean your gutters once a year, and this is an ideal time. While you're already on that ladder, check out your roof and chimney for any necessary repairs.
External water sources
You've likely been using outdoor plumbing over the summer. Be sure to drain faucets and sprinklers and cover them.
Composting
Learn how to compost! Not only is it good for the environment, but it will put all those fallen leaves to good use when you garden next summer.
Outdoor supplies
Start cleaning your outdoor furniture and your tools for gardening. If you're done with them for the season, store them away now! If not, clean them off for when you're ready to put them away.
Planting
If you want a pop of color on your lawn, plant spring flowers in October when the soil is a bit cooler. Pick somewhere that gets full sun.
Furnace
Get ready to use your furnace by getting a professional to look at it and ensure it's ready for use. If you don't want to pay for that, replace the filter at the very least.
Fireplace
Your fireplace also has to be ready for use: clean it, and inspect the flue, doors, and shields. It's also a good idea to make sure the chimney is clean.
Points of entry
It's easy for air to seep in or out through doors and windows. Check the weatherstripping and caulking, and update them if necessary.
Lighting
Winter brings shorter days, and thus, more darkness. Capitalize on natural light by cleaning your windows as well as your blinds. Additionally, stock up on lamps with energy-efficient bulbs.
Mudroom
You don't need a built-in mudroom; you can improvise! Designate a space in your entryway for wet clothes and shoes by putting in an indoor-outdoor mat and coat rack.
Safety
It's essential to take precautionary measures for safety every so often. Change the batteries in your smoke and carbon monoxide detectors. Have your family review your fire escape plan, and create an emergency kit for power outages.
Source: Zillow