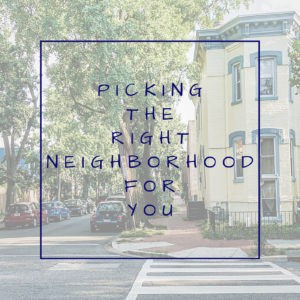 When you're looking to move, there's so much more that matters than the home itself. The neighborhood is crucial: you won't be truly content unless you're happy where you live.
How do you know if a neighborhood is the right fit? Check out these tips for deciding what you want in a location and how you'll find it.
Profile your ideal area
Deciding what you want in a neighborhood is actually a very reflective process. It's important for you to consider what you need. Prioritizing is key, so when making your list, be sure to distinguish your wants from your needs.
Here are some things to think about:
Do you have or want children? If so, schools have to be considered.

What kind of home are you looking for? Single-family? Apartment?

What's your ideal commute?

Would you rather the area be rich in history or modern?

What do you wish your current neighborhood possessed?

What are things you can't handle in a neighborhood? If it's something like noise, you'll want to avoid a college town.
Get specific
Once you know what qualities are important to you in a neighborhood, it's time to look at particular ones. If you're remaining in the city you live in already, dive even deeper into the neighborhoods you already know about. If you're relocating to a brand new city, you'll have to do some research.
Research carefully
There are a ton of resources out there. Make sure to look into the school district, crime rate, parks and recreation, neighborhood associations, and tourist attractions.
Visit
After doing research and narrowing down your options, it's time to take a look at the neighborhoods in person; it's helpful to do this at multiple times of the day.
When you go, there are a few things you'll want to do. The first is to maintain the memory of your first impression. The next is to picture yourself in the area. It's also useful to see the schools, as well as be on the lookout for any red flags, such as abandoned buildings or vandalism.
The best sources of information are the people who already live there! Make sure you talk to people about the neighborhood and what their experiences in it have been.
Seal the deal
After you're comfortable with a neighborhood choice, look for a home! Think about your budget and your loan options.
Source: HGTV