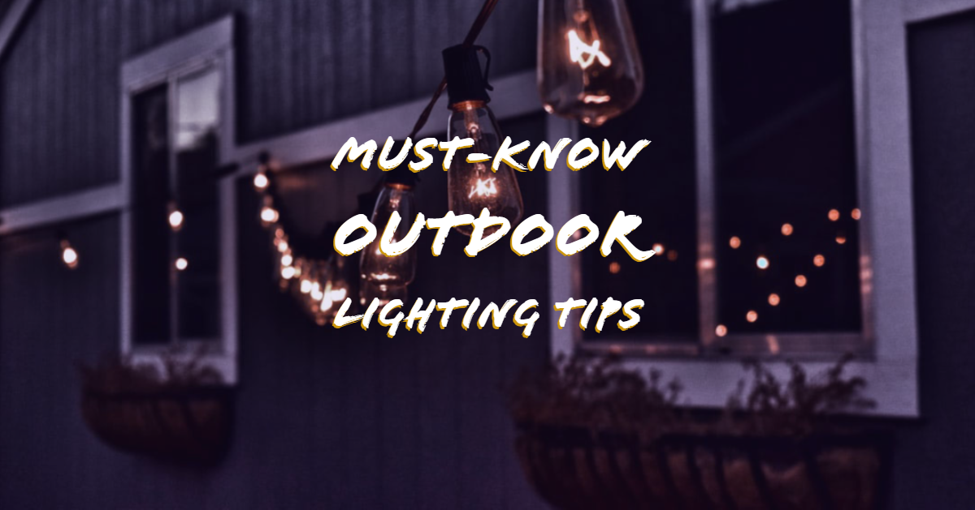 Not all outdoor lighting is created the same, and it requires more than simply putting up a wall light and calling it a day. To properly create ambience, your focus should be on choosing the right type of lighting fixture. 
Here are a few tips for making your outdoor lighting bring out the best of your property:
Ambient, Task, Accent
You'll want to include all major lighting types: ambient, task, and accent. Ambient lighting is achieved through hanging lights, wall lights and post lights. Task lighting includes pathway lights, security lights and plus deck. Accent lighting can be achieved with landscape kits and spotlights. 
Calculate
You'll want to figure out exactly how much lighting you need before the shopping starts. To determine how much light you need for a given space, multiple the square footage of the area by 1.5 to get an estimate of the total wattage required. For example, 200 square feet of space would require 300 watts.
Plan Ahead
Before choosing fixtures, observe your space and take measurements. Use a paper template to determine placement to review the size before buying. For a lawn quick fix, consider a landscape lighting kit or solar landscape lighting.
LEDs
These products use far less energy than halogen or incandescent bulbs, and as they're almost maintenance-free, you won't have to change bulbs.
Look From Inside Your Home
Consider how patio spaces, pathways, and gardens look from inside your home. Lighting gardens or shrubbery that can be seen from living or dining rooms give your interior space a room-expanding view to the outside at night.
Source: Real Simple