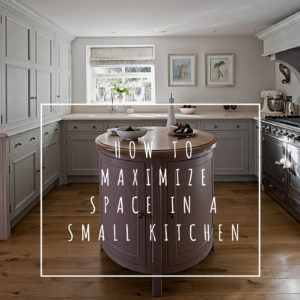 When you rent an apartment, it's likely that you won't be happy with the kitchen. Even when buying a new home, you'll often need to do some work on this much-used area.
If the main issue with your kitchen comes down to size, however, there are plenty of things you can do on a budget that will allow you to maximize space and become happy with what you have. Here are a few ideas:
Donate
The work starts before you move. Go through all of your kitchen utensils/appliances and donate the items you don't need. Don't be afraid to get rid of the things you never use. It's important to prevent clutter from accumulating prior to getting your kitchen items into that smaller space. Additionally, your possessions will go to people who really need them and will get good use out of them.
Go vertical
If your kitchen is pressed for space, go vertical! Think hanging pot racks, mounted dish-drying racks installed above the sink, magnetic knife strips, and hooks for things like aprons, towels, and oven mitts. This will keep items off the little counter space and shelves you do have.
Be aesthetic
In reality, there will be some tools you'll either have or want to keep out due to convenience. When it comes to traditionally non-aesthetic items like cleaning supplies, make sure they won't detract from the visual appeal of your space by purchasing a wooden broom, a decorative soap dispenser, or a vase for cooking utensils.
Make dishwashing easier
While dishwashers are ideal, they're usually not present in smaller kitchens. Thankfully, there are ways to make dishwashing more efficient! Think about adding a pull-down sprayer to your sink or investing in a portable dishwasher.
Add an island
Islands are a quick and easy way to add more counter space. If your kitchen is too small for a center island, you can add a smaller butcher-block table. Some even come with wheels, so it's easy to add them wherever you need the space!
Install good lighting
Lighting can completely transform a space! If you use your kitchen most in the morning, use cool lighting to promote wakefulness. If you use your kitchen more in the evening, use warm lighting for relaxation and a romantic atmosphere. Don't be afraid to mix and match both!
Personalize
Kitchen walls are often white-washed and sparse. Use removable wallpaper to add some decoration and depth. If you're on a budget, stick to one accent wall. You can even add a mirror to help reflect light.
Additionally, if you have some unconventional kitchen features, dedicate a specific space to them. This could include items like family antiques.
Go green
Plants brighten up any space. If you don't have enough space, go for a hanging plant. If you're concerned about caring for it, consider a succulent or artificial plant.
Source: Zillow