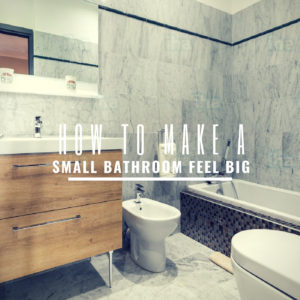 Bathroom spaces can often be the most awkward to work with. They're also the rooms that are most likely to be cramped. With limited lighting and space to move around, bathrooms can get frustrating.
Thankfully, there are many ways to make a bathroom feel much larger than it is. Here are some tips:
Light
Light is essential. Make sure to use light paint colors. You should also keep the floor light. Additionally, if you're lucky enough to have windows in your bathroom, use sheer coverings that will still let light in. You can always install other light fixtures in the space.
Mirrors
It might seem odd to place multiple mirrors into a bathroom, but they do a great job of reflecting light and opening up the space.
Storage
Putting your personal belongings and toiletries away is key. Leaving things out cuts off the space. This also means that you should put away the bathmat when you're not using it, so the space looks much more open. Utilize recessed shelving and medicine cabinets, keeping things as close to the walls as possible.
Curtain rods
Raise shower and window curtains to the ceiling. This will make the ceiling appear much taller.
Door alternatives
When you open a traditional door, it takes up a lot of room. Consider using a sliding or pocket door instead. This will conserve a lot of space!
Pedestal sinks
You'll have so much more room without a full vanity. If you're concerned about space for your toiletries, look into wall mounted options.
Shower door
If you have a shower door instead of a curtain, use clear glass without a frame rather than frosted. It's also important to make sure the door extends to the ceiling.
Source: Zillow