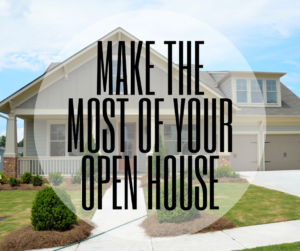 There are plenty of better things to do on a Sunday than host an open house. After all, who wants to open up their home for strangers to ogle at closets or poke through their shower? However, if you want to sell your home at the right price, you'll need to do whatever it takes.
You should know some of the basics thanks to your real estate agent: getting the home as clean and organized-looking as possible, making sure your yard is trimmed and that fresh flowers are sprouting, and most of all, hiding any and all money, medication, jewelry, or small valuables. Here are some tips to make your open house a successful one:
Make it generic
While your home is still your home, you are trying to get potential buyers to imagine it as their home. Put away all family photos, any of your children's art, shopping lists, or reminders to visit the doctor. Also, turn the volume on your answering machine to "off" so potential buyers aren't screening your phone messages.
Clear the decks
Place all of your toothbrushes, deodorants, perfumes, and makeup under the bathroom sink. Stash away your coffee maker, toaster or blender. The more spacious your countertops look, the more people will remember your house. Clean counters make your countertops look bigger and let people know that they're large enough to store their own appliances and products.
Dinner
Put out your best place settings on the dining room table. It adds a touch of class and elegance to your home, letting the potential buyer picture all of the fabulous dinner parties they'll be able to host if they're to buy the property.
Doormat trick
Just before most people step into a home, they glance down and give their shoes a rub onto the doormat. If you're selling your home, now is the time to go all out and invest in a nice one. A high-quality doormat serves as a subtle sign that you care about the property. Even though you may have gotten just along fine without one for the last few years, it makes the property look well-taken care.
Bribes
If your open house is occuring when the weather is cool, leave a large tray of freshly baked cookies or brownies on the kitchen counter. In the summer, a big pitcher of lemonade or water might cause some thirsty soul to pause and take a good look around your home. It also allows the potential buyer to remember their visit to your home with fondness, making them more likely to consider your house for an offer.
Source: HGTV