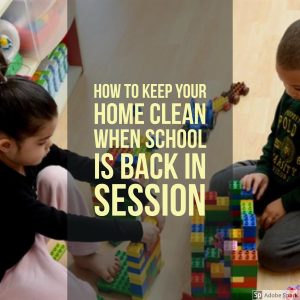 Can't believe it either? We're talking about going back to school! While it was fun to spend time with our feet in the sand, it's time to get back to the books. If you need some help ditching the sunshine, here's a crash course on keeping your house clean once school is back in session:

Shoes off
Make sure that playdate mates know this rule right out of the gate. When other kids come over, they need to take off their shoes. Keep a mat by the front door and positively remind your kids. This also keeps your carpets and floors from becoming dirty.
Wash your hands before snacks
As soon as your kids step through the front door, direct them to the bathroom to wash the day away. Do they need reminders? Keep a little note by the mirror. Make this a constant routine.

Weekly room overhaul
Every single weekend, make sure your kids clean up their closets, corners, and under their beds. Without this, there will inevitably be piles of unnecessary junk lying all around. Start out the school year by sitting alongside your children and talking them through the process. Then, allow them to work on their own.
Daily wipe downs
Grab a disinfectant wipe and wipe down backpacks, countertops, tables, dressers and more. Use these to fight against germs, grime, and dust in a quick and easy fashion.
Fridge and pantry maintenance
Once a week, make sure your food is still fresh and edible. Concentrate on the fridge and pantry cabinets. Give the shelves a nice wipe down and hit the markets and restock. This way, you can keep the bacteria away and your cabinets neat and organized.
Laundry
Make sure you keep your linens clean! Change your bedsheets every week and your pillowcases every two weeks. This will keep them free of dust and germs and will also make your house more beautiful.

Keep your family happy and healthy this back to school season!

Source: She Knows