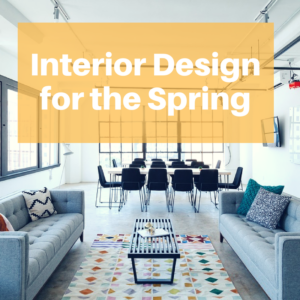 The weather is finally changing and Spring is in the air! That means it's time to refresh your home decor, as well to match the season.
According to Pinterest, there are a few fun and easy ways to re-decorate for the Spring! Check out these potential accessories, palettes, and styles:
Metals
Silver and gold are out, and copper is in. Try out some copper accents in whatever way works best for your home, be it a decorative vase or copper lighting.
Accent Wallpaper
A great way to refresh your space is to use marble wallpaper on a single wall. While actual marbling can be quite expensive, this is a much more affordable to way to freshen up your space.
Materials
Acrylic is the latest trend. It is aesthetic and a great way to make a smaller room feel more spacious. Another fun material is wood, especially in the form of tiles that'll give your space a rustic finish.
Inspiration
The Danish concept of "hygge" harbors the main pillars of simplicity and coziness. It emphasizes simple decor to make your space feel homey. Try things like candles and throws. Another way to feel comfortable is to add climbing plants for a touch of nature and greenery.
Colors
In the past, blacks and whites have been the go-to color scheme. Instead, look to different hues of blues. Try out different combinations by sectioning all of your walls, or perhaps try an accent wall.
Source: Elle Decor