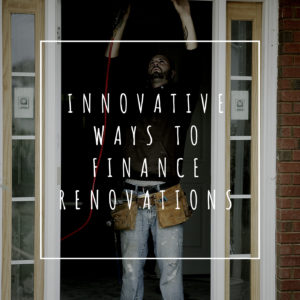 Home renovations can be very exciting- and stressful! For most people, the bulk of the stress comes from the cost involved in making these changes in the first place.
The average American homeowner spends more than $3,000 on home improvements every year. Here are some creative ways to pay for them:
Mortgage
Consider refinancing. You should look into a lower rate or a longer-term mortgage, as both of these options would decrease your monthly payment and allow you to pay up. Depending on your equity, you might even be able to get a cash-out refinance!
Equity
Look into HELOC: Home Equity Line of Credit. If refinancing isn't an option for you, think about using your equity. This allows you to borrow money with a decreased interest rate.
You can also take out a home equity loan. Instead of borrowing as you go, as you would with a credit line, you get the entire sum at once. The interest rate is generally higher, but fixed; a credit line's interest is usually lower but not fixed.
Relatives
Think about asking to borrow from family or close friends. They'll generally approve…and not charge interest!
Earn
While it can be difficult, sometimes picking up extra cash is the best option. Pick up an extra part-time job or rent out space in your house; use public transportation instead of your car or house sit or dog walk.
Save
Saving is the most traditional way to go about funding home improvements. Check your expenses and see where you can cut back.
Source: Zillow