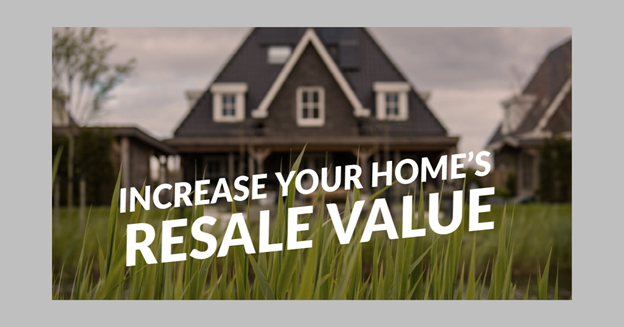 Some of us might be feeling a little stir-crazy, but others are taking the opportunity to tackle home improvement projects. You may decide to change up your space for your personal enjoyment or comfort, but if you're a homeowner looking to sell, it's worth considering which projects will not only look good but offer the best return for your time and effort.
Whatever route you take, a few well-chosen updates could improve your home's appeal and value. With sale prices climbing and homes selling at their fastest pace in more than two years, this may be a good time for would-be sellers to start prepping their homes for listing. 
Here are five DIY projects that could help increase your home's value.
Upgrade your lights
Good lighting can bring out the best in your home. Updating old fixtures and adding dimmer switches are fairly simple upgrades. You could also consider replacing your fixtures with smart lights controlled by an app, which can help you save on your energy bill and sell your home faster.
Here's a DIY guide to changing a light fixture, or if you want a professional installer to do the job, Thumbtack finds the average cost is $380.
Replace your faucets
Whether your look is modern or traditional, a new faucet can enhance the style of your bathroom or kitchen. Make it a touchless faucet for added appeal, as COVID-era buyers increasingly look for smart features that will keep their homes germ-free.
With attention to detail and a tolerance for tight spaces, you can handle this job yourself, but if you'd rather leave the under-sink contortions to a pro, Thumbtack finds, on average, you can expect to pay $205 to replace bathroom fixtures.
Landscape smartly
A desire for more outdoor space is the top reason people say they would consider moving as a result of social distancing recommendations, according to a Harris Poll survey. There's no better time to spruce up your yard and create the functional, beautiful outdoor space buyers want.
If you don't like getting your hands dirty (literally), expect to pay $2,600 on average, according to Thumbtack, for a professional landscaping business to clean up your yard, which typically covers mowing, pruning, weeding, planting new flowers or shrubs, and adding new soil, mulch or bark dust. 
Add a fire pit
Now that you have a nicely landscaped yard, go one step further and install a fire pit to create a family-friendly backyard hangout. Interestingly, that sale premium is higher than homes mentioning an outdoor fireplace or a chimenea. An added bonus: This is a DIY the whole family can help with. 
Paint your front door (and more)
A freshly painted front door can boost your curb appeal, and if you're thinking about selling, you may be surprised by the winning color when it comes to ROI: Homes with black front doors can sell for up to $6,000 more than similar homes.
If it's in your budget, consider painting the whole exterior (probably not black, though!) to create a great first impression.
Source: Zillow