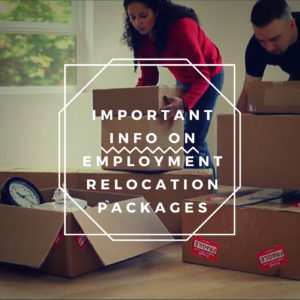 It's not uncommon to be asked to relocate for your job. In fact, if this has been requested of you, you're in the company of about 7 million Americans.
Regardless of whether it's expected or not, moving is a big deal- there's no question about it. To make the process easier, and to make sure you understand what to expect from your employer, here are a few things you should know when it comes to employment relocation packages.
Don't Assume
Some employers specify incentives to relocate, but if yours hasn't, don't forget to ask. Be sure you know exactly what kind of compensation and services they're offering.
Consider Extras
There are so many costs associated with moving. Some things to consider are vehicle transportation, cultural training, and closing costs. Some employers may even cover a guaranteed buyout.
Do it on Your Own
If your company isn't being as helpful as you'd like, consider moving through the process on your own. The most traditional options for moving are using your own car, renting a moving truck, and hiring movers. Each has its benefits and drawbacks. An increasingly popular option is self-service moving, in which professionals drop off large containers, which you can fill with your packaged belongings before they move the containers to your new home.
Think About Taxes
A job relocation might qualify for a tax deduction! However, if your company directly pays the movers, there'll be no need to report it on your W-2. If your employer gives you money to move, however, you'll be taxed on that because it's considered earnings. Be sure to retain your receipts and consult a professional.
Source: Zillow