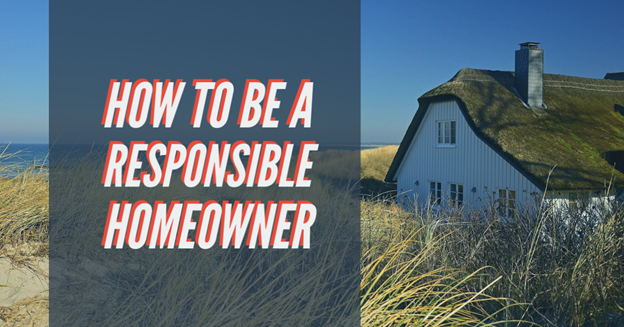 Owning a home is a huge accomplishment; one that benefits you and your family and much as it benefits your community. People who transition from renting to owning a home are more likely to vote, get involved in their community and take care of their home's appearance. Homeownership is also a big commitment, and you've got to hold up your end of the bargain. 
Closing on your new home may seem like a done deal, but in reality, it's only the beginning. That's why it's crucial to understand what it takes to be a responsible homeowner.
Understand Your Home's Major Systems
You don't need to be a professional plumber, electrician or HVAC technician to understand the basic functionality of your home's major systems. Before you purchase a new home, an inspector will test your home's utilities. Use this inspection as a crash course on how to troubleshoot your home's inner workings if you have the opportunity to participate.
Make sure you familiarize yourself with your home's.
Spend Smart
Buying a new home is exciting, especially for first-time homeowners! You may have visions of a completely remodeled kitchen, decked out family room and solar panels dancing in your head, but resist the urge to go on a shopping spree to upgrade everything at once.
Homeownership is a major transition, and you've just forked over a lot of hard-earned money for a sizable down payment. Your savings are tapped out, and you're likely spending a lot more each month on the expenses that come with owning a home, like homeowners insurance, utilities, and trash and recycling fees.
This doesn't mean you can never make upgrades to your home. Someday you can completely gut and remodel your kitchen and install solar panels. Just give yourself some time to adjust.
Assemble a Basic Tool Kit
You don't need to transform your basement or garage into a high school shop room, but you do need a few tools to tackle small repairs. A basic tool kit should include a flashlight, work gloves, a hammer, pliers, a monkey wrench, and more.
Don't Ignore Things That Need Repairing
When you own your home, it's your responsibility to maintain it. There's no landlord to call if the roof leaks, the toilet breaks or a light bulb goes out. Many tasks and projects can be your responsibility, like mowing the lawn, replacing air filters and fixing clogged pipes. Others require outsourcing, such as repairing the roof, installing a new HVAC system or resurfacing your home's exterior.
If you're looking to save money, spending on unnecessary items and home improvement projects should remain at a minimum, but you shouldn't ignore anything that threatens your safety or could evolve into a bigger (and more expensive) problem over time. Think: a leaky roof, cracks in foundation, damaged pipes, etc. Keeping your home in good shape also keeps costly repairs at a minimum and ensures that your home maintains or increases in value.
Keep Good Records
Set up a filing system that includes copies of purchase receipts, photographs, warranties, records and legal documents, and store everything in a fireproof safe. There's a lot of paperwork associated with being a homeowner, and if you ever need to file a claim or if an appliance breaks and it's under warranty, you'll know exactly where to find appropriate documentation.
Save an Emergency Fund
A rainy-day fund is your best defense if you ever need to make an unexpected, expensive repair. If your roof starts leaking or your A/C dies at the height of summer, think of how nice it will be to cover necessary repairs without postponing the project or acquiring debt. Even having some money squirreled away is better than nothing at all.
Source: Zillow