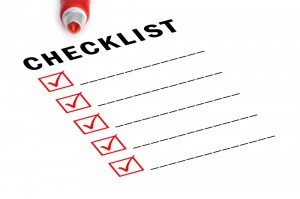 We've gone over the top questions you should ask yourself before starting the home-selling process. The decision to sell a house should be made with a great deal of forethought, but it can be extremely liberating if the reasons for selling were piling up. Once the decision has been made, the real work begins!
Here's a checklist for the various actions you'll have to take to ensure for a smooth house-selling process:
Make small fixes-

Walk through your home (more than once!) with the perspective that a buyer might have, and fix the more noticeable flaws. Those that aren't particularly noticeable but are relatively easy to fix should be taken on as well.

Agent or self-sell-

The decision to sell your home with the help of an agent should not be arrived at without research. Statistically speaking, those that choose to sell their homes with the help of an agent do so with greater speed, and often at a higher selling price. Be sure to ask your friends/family if they have any recommendations.

Decide on a price- This can be done with the help of a real estate agent, free of charge or commitment. It's worth looking into comparable listings as well, be it in the real estate section of your newspaper or on websites. You may also want to get an analysis from a certified appraiser (check out

appraisalinstitute.org

for more), for a more exact figure of what you may want to look for.
Get rid of the excess-

Every home has some degree of excess. This could be in the form of leaves in the gutters, weeds in the gardens, furniture in the attic, and so on. The more spacious and welcoming your house can appear, the better.

Perform daily maintenance-

Even if you don't have a showing, it's good to stay in the habit of keeping your home in tip-top shape. Be sure to look out for problems as they arise, so they don't grow in size, noticeability and expense, while keeping the house in generally good condition.

Go to extra lengths on showing days-

There are special lengths you'll want to go to on showing days that might not be necessary on standard non-showing days. These lengths could include baking cookies, keeping pets out of sight, displaying fresh fruit, hiding valuables, and so on.

Get ready to move-

Once your house is sold (congratulations, by the way!), use a moving checklist to help decide how best to move items from your old house to your new ones.
Sources:
http://www.realsimple.com/home-organizing/organizing/moving/selling-home-checklist
http://files.a2.remax.com/content/HTSYOH_-_Booklet_homesellers.pdf