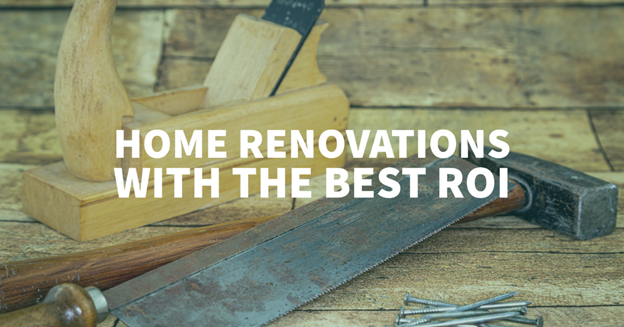 Whenever you sink money into improving a home, there's an opportunity cost. Spend $20,000 on a bathroom remodel, and that's $20,000 you won't have available for another project. As such, it's important that you understand which home renovations offer the best return on investment. This holds true whether you're flipping houses for a living or are trying to improve the property you live in to sell eventually.
With that in mind, here's a list of the home improvements with the best return on investment.
Manufactured stone veneer
When it comes to attracting buyers, curb appeal is huge. And the right exterior could really make a difference in sale price, too. Manufactured stone veneer is a great choice in that regard. If you're not familiar with it, it's fake stone that's designed to look like natural stone, which can be prohibitively expensive.
Garage door replacement
New garage doors can add to your home's aesthetic appeal and functionality. After all, no buyer wants to struggle with outdated garage doors whose mechanism fails every third try.
Minor mid-range kitchen remodel
If there's one room in the typical home that tends to see a lot of usage, it's the kitchen. But believe it or not, you don't have to go all out on a kitchen remodel to make a big difference when it comes to resale value. 
What does a minor kitchen remodel entail? Generally, it means refacing or replacing cabinets, swapping out countertops, and putting in new fixtures, like your sink faucet. You may or may not have the budget to replace some or all of your appliances, too.
Fiber cement siding
We talked earlier about curb appeal, and fresh, clean-looking siding can make a difference in that regard. Fiber cement siding is siding that's designed to look like wood, only it's not — which means it's not apt to warp and rot the same way authentic wood generally will over time. Fiber cement siding also has a more natural look than vinyl, making it a popular choice among homeowners and buyers. 
Vinyl siding
If your siding has seen better days, replacing it could improve your home's value substantially. And in that regard, vinyl siding is an easy, cost-effective choice. Vinyl siding is low maintenance and comes in a variety of colors.
Vinyl window replacement
New windows can do a number of things for a home. Not only can they add aesthetic value, but they can also help improve a home's energy efficiency, thereby lowering heating and cooling costs.
Wooden deck addition
Decks are a great thing because they make it possible to maximize outdoor space. In fact, you'll notice that when you install a deck, it'll generally add to a property's assessed value and property tax basis because it's considered "new living space."
Source: Fool.com