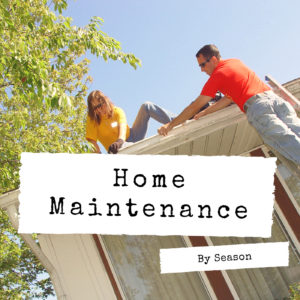 For most people, their home is the most valuable asset they own- so it's important to take good care of it. Regularly performing home maintenance will ensure its value doesn't go down, while also making the place you live more comfortable.
Here's what you need to be doing each season:
Spring
This is the season of cleaning! Clean every facet of your house: windows, decks via power washing, floors and carpets via steam cleaning, drapes, baseboards, kitchen appliances, and your bathroom.
When it comes to the outdoors, prune your trees and shrubs to maximize light entering your home. Clean up your yard and plant some flowers for a springtime aesthetic. Clean and repair patio furniture. It's also important to clean out your gutters and downspouts, fix or replace window screens, fix rotting wood trim and crumbling stone. Be sure to also check your foundation and seals, as well as roof shingles.
Summer
The key to summer maintenance is keeping cooling expenses low and outdoor spaces pleasant. Make sure you keep your outdoor plants extremely well hydrated. Mow the grass and keep the weeds in check.
In the house, dust your fans and ensure they're spinning counterclockwise. Make sure refrigerator coils and door gaskets are clean. Dehumidify your basement and clean your air filters to maximize the efficiency of your AC unit.
Fall
Fall is the time to ensure you're ready for winter. Bring in a professional to clean and check the heat. Make sure system filters and return vents are clean as well. Make sure weather stripping and insulation are well maintained. Hire a chimney sweep to maintain the chimney.
Clean up your yard and plant some fall flowers. Help your lawn by aerating it and overseeding the bald spots. Store outdoor furniture and garden hoses. Check caulk on windows to ensure heat won't exit your home.
Winter
Your main goal in the wintertime should be to save money while staying warm. Ensure furnace filters are in good shape, have ceiling fans spin clockwise to direct warm air down, arrange exposed pipes close to a heated place so they don't burst, and ensure your heating registers are clean.
Source: Zillow