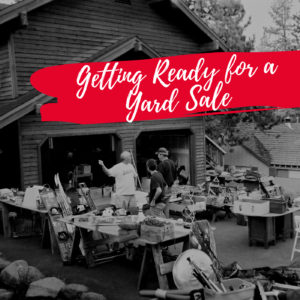 There are so many reasons to have a yard sale! Whether you want to get rid of your old junk, make some extra cash, or set an example for your children, hosting one is a great idea.
The task of preparing for a yard sale can be quite daunting, but if you plan appropriately, the process should fly by. Here are a few tips to make it easier:
Start in advance
It's a good idea to start about two months prior to the date of the sale. This will ensure you won't feel rushed. Use this time to separate your items into categories, set prices, and create signs.
Collect everything you want to sell
Go through each room of your house separately, looking for items you want to get rid of. The rule of thumb is as follows: if you haven't used something in a year or more, you probably won't use it again. Place them in garbage bags or boxes in the room of the house you use the least.
Reflect
If you've had a yard sale in the past, think about what you learned from it. If you've never had one before, talk to people who have, or read articles and blogs. When you have this yard sale, take down some notes for yourself for future sales.
Get what you need
In order to run a yard sale, there are things that you need to have onhand. In terms of money, you need to have a box to put the cash you earn, as well as petty cash to give people change. Have an extension cord handy if people want to try out any electronics. Use towels or tarps to display things on your lawn. Decorate your yard sale so it's noticeable; use things like balloons, banners, and streamers. Make sure to have a pad and pen for people to leave contact information, as well as a garbage can for people to throw out any beverages or food they might have been consuming when they came to your sale. Finally, have chairs for you and the other hosts!
Clean your items
Your items may have collected dust over the years. Mr. Clean Magic Eraser is a great tool! Another is Lysol cleaning wipes.
Make a plan for your dog
Even if your dog is extremely friendly and gentle, it's best to keep them away from the yard sale. Decide whether you trust them in the house by themselves or prefer to put them in some type of kennel inside.
Source: Household Tips Guide