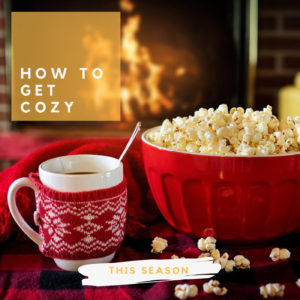 The temperature is dropping and the sun is setting earlier and earlier. But this doesn't mean the gray sky has to reflect your mood!
The Danes know how to make the most of this dreary weather. Here are some tips for getting nice and cozy.
Ambiance
Set up some candles to give the room a warm feel. You can even choose ones with your favorite scent to maximize the vibe of your space..
Food
Baked goods foster coziness. Get your favorite ingredients and hit the kitchen. The act, smell, and taste of baking will make your whole house feel warm.
Top things off with your preferred warm fall beverage. Be it hot cider, mulled wine, or hot chocolate, get your own recipe and make it yourself!
Decor
Cover the room with plenty of fluffy pillows and soft throws to wrap yourself in. Decorate with as many plush fabrics as you can.
Loved ones
Spaces are always cozier when they are shared with others. Host as few or as many of your loved ones as you want, and ask them to bring over some fall treats! It's so fun to also bring out some card or board games to play with them.
Clothing
Sweater weather has arrived! Find your favorite cozy sweater and wear it with soft thick socks. Recommended materials include wool and cashmere.
Music
Create a playlist with all the best cold-weather jams. Whatever music makes you feel warm and fuzzy should go on the list. Select shuffle and enjoy!
Activities
Take advantage of all this season has to offer! Pick your favorite activities and set aside time to do them. Pumpkin carving, dipping apples into caramel, sleigh riding, and touring neighborhoods with Christmas lights can all be on the list!
Source: Zillow