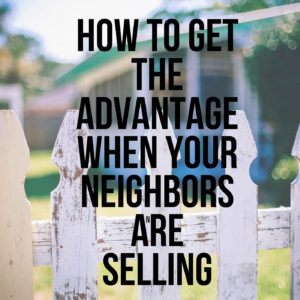 It's no secret that it can be a bit awkward when a next-door neighbor's home goes on sale at the same time you list yours; however, it's not just the competition that you should be thinking about. There are other factors relating to your neighbor's home that may affect your sale.
Here are some ways to get the advantage when your neighbors are selling:
Disclose
In general, fences make a pretty clear delineation of property lines. But in some cases, you might have a dispute with your neighbor over property lines or a broken fence that was never resolved. This is something buyers should know about. While some states oblige sellers to disclose these issues, not all do. Feel free to share this information with your neighbor's selling agent so they can alert potential buyers.
Get perspective
Open houses are not just for potential buyers; capitalize on your neighbor's open house. This will give you a chance to see your home from a neighbor's perspective and examine it from all angles. See your house through a potential neighbor's eyes to make sure the paint job is adequate and your house looks beautiful from all sides.
Keep updated on the market
If you want to be truly real estate savvy, it's important to keep tabs on the market at all times. Keep an eye on listings in the area, even if you aren't currently selling or buying. One way to do this is to stay in touch with an experienced agent who is always tuned in to the local market; they will generally share their insight on things like property taxes and assessments with potential future clients.
You can use a neighbor's home for sale as an idea of pricing and what people are looking for aesthetically. You can also learn from what they do and don't do. There is no better gauge on the market than homes that are actually for sale.
Source: Zillow