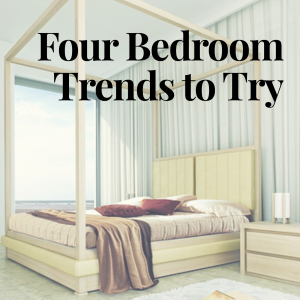 Fashion trends are constantly changing, and it can be tough to keep track of what's "in" and what's "out." When identifying trends that I can utilize in my home, I try to consider what will fit in with my current decor and what might have a surprisingly positive effect on the space. Regardless of what you try to implement, you can't go wrong with experimentation, and it's a fun process either way.
Here are four bedroom trends to try:
Wood Plank Walls
Combine the rustic warmth of a log cabin into a contemporarily designed bedroom and you get a bedroom that is warm, peaceful, sentimental, and not overly fussy. Take wide panels that look like they might come from an old barn, and if that is too old-fashioned for you, try a wood plank headboard instead. That way you can try the style in a much smaller, more temporary fashion.
Strong Wall Color
Bold colors have been in style for several years and are not likely to go away soon. Popular choices include dark navy blue, deep gray, and chocolate brown. Since these are all soothing, subdued colors, they create the warm, comforting vibe that everyone wants in their own bedrooms. They do make a strong statement, however, so if you don't want to go all out with all four walls painted a strong color, create a focal wall or use them in accents throughout your bedroom.
Four Poster Beds
These are classic, and you really can't go wrong if you put one of these beauties in your room. Today's modern styles have more clean, simple lines, usually without a canopy (unlike past ornate Tuscan styles). Most of all, there is something remarkably cozy about getting under the blankets in a four poster bed.
Wallpaper
Wallpaper is currently in and it's even better than before. Today's designs are larger, brighter, and more eye-catching than the fussy, small patterns from decades past. Cover one wall to create an impromptu focal wall or go all out by decorating all four. Try out strong colors, geometric designs, textured wallpaper, or oversized florals. I particularly enjoy trying different wallpapers, as they allow you to liven up the walls without the hassle of painting.
Source: The Spruce