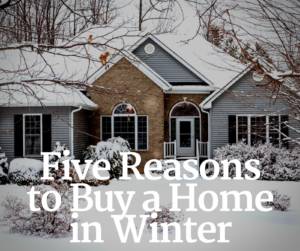 Many real estate experts believe that the spring and summer are the prime seasons for buying a home. After all, the pleasant weather makes for a much easier home visiting experience and sellers know their front yards look better when they're not covered in snow. However, contrary to popular belief, buying a home in the winter can come with some serious advantages. Here are five:
Lower Inventory, Less Competition
In many housing markets, winter usually allows for fewer options with less houses on the market. After all, sellers know that it's easier to develop curb appeal without dried grass and melting snow. However, it's possible to find the right property that meets your needs, and with fewer people looking, you'll often have less competition. Even though there may be less inventory, supply often exceeds demand when working with fewer buyers. As a result, prices are often lower than during the hot season.
Fewer Buyers to Compete With
Because most would-be homebuyers have the impression that it's better to shop for a home in the spring or summer, there tends to be fewer buyers and thus less competition during the winter.
Sellers are Motivated
The lull in activity during the winter season often results in more motivated sellers. Real estate agents know that during the slower winter months, many sellers are more willing to negotiate. It can be on anything: selling price, closing costs, closing dates, or even terms of sale (such as household appliances). That's why many real estate agents recommend that their clients delay listing their home until the spring.  
Seller's Circumstances
Sometimes, sellers are forced to move during the winter. Personal situations such as financial struggles, divorce, or a job offer might have dictated their winter move. Either way, this can work to the buyer's advantage, as the seller might be more motivated to sell than they normally would.
Prices Are Lower
When you have fewer buyers in the market, supply has the tendency to exceed demand. This usually results in prices being lower than they'd be during the peak real estate season.

Source: The Spruce