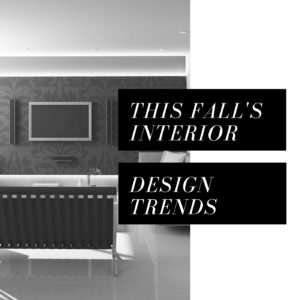 Fall is here at last! It's finally September, which means it's time to switch over from your summer decor. A new season also means new trends.
Luckily, the runway provides us with inspiration of how to transition to the autumn and what will be in style in the coming months. Look at these ideas!
Go big
Oversized is very in this season. Decorate deep loungers with oversized throws made of chunky knits. Use large cushions for seating, huge pendant lighting for illumination, and big art for decoration.
Use texture
The more texture, the better! This means things like plastic, vinyl, shine, and sequins. Mirrors are also a perfect addition. If you want to ease into it, add cushions or accents to your current furniture.
Be colorful
Cooler weather means darker colors. Turn your pastels into plums and burgundys. If you're looking for the perfect color pair, emerald and mustard contrast each other beautifully. An easy way to make the switch is with accents and bed sheets.
Travel back in time
Channel the style of the '80s. Going retro can be done with graffiti graphics, bold colored walls (primary colors only) and rugs, accents with numbers, or funky text.
Keep it classic
In the high fashion world, keep it simple this fall. Use classic cuts and tailored lines. The space should be minimalist, with little to no clutter. Keep things monochromatic and muted, using black and white as a foundation. Patterns can be added as accents on piping, chairs, and buttons.
Source: homes to love