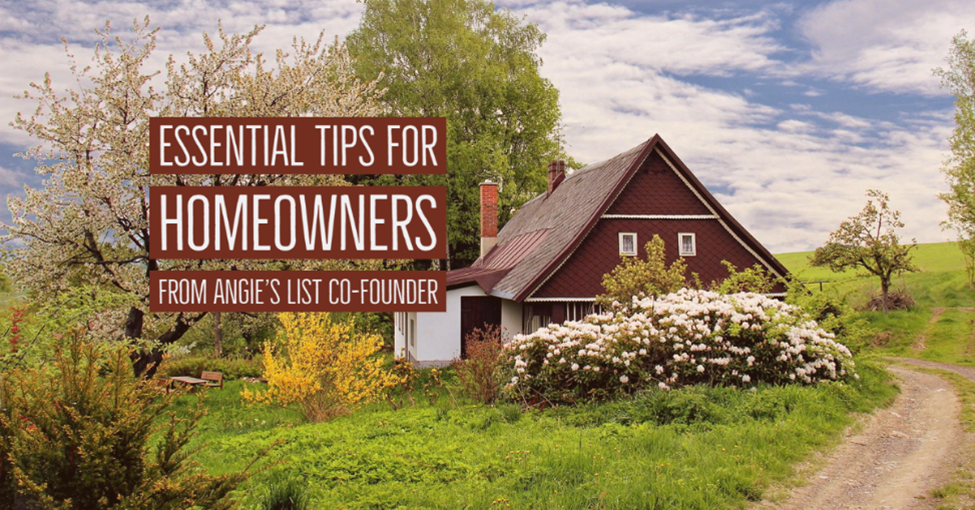 Thirty years ago, if you wanted to remodel your bathroom and you weren't plugged in to your local network of contractors, well—you were stuck. Angie Hicks started her hugely popular ratings and review platform, Angie's List, in 1995 after hearing about her co-founder's frustrations with trying to find reliable contractors in suburban Columbus, OH. Since then, millions of homeowners have turned to the site to find help with plumbing, roofing, or general home improvement.
Since then, Hicks has become an expert on all things home improvement, and over the past 25 years, she's seen and heard it all.
"Whether you're a first-time homeowner or not, owning a home can be both a rewarding and stressful experience," says Hicks. "During the past year, this became especially true as our homes have become more important than ever before."
In a time when we're staying home more than ever, because of the COVID-19 pandemic, many homeowners are assessing their homes and seriously contemplating making interior upgrades. If you've been toying with the idea of a renovation—or you just want to enjoy your home more—check out Hicks' top tips that have stood the test of time.
Do your research, even in an emergency
Before hiring any contractor, Hicks recommends getting multiple bids and vetting the contractors and their subcontractors by checking references, reading reviews, and verifying licensing and insurance.
"It's easier said than done, but try not to panic. Even during a home emergency, it pays to take the extra time to research your pros," says Hicks. "Very rarely is the first option the best, and failing to properly research could leave you with a pro that creates more damage than they fix."
She says cheaper is almost never better, and if it sounds too good to be true, it probably is. Some contractors promise ridiculously low prices or quick turnarounds that end up being a big disappointment. Consider getting bids from at least three contractors, to determine whether you're getting a fair price.
Get your home improvement contract in writing
"This is a really important lesson that many people learn the hard way. Writing up a contract ensures that all parties are on the same page when it comes to total cost, timing, and more. While there may be some delays or minor changes to the original plan once the project gets started, a contract can help ensure there aren't too many major surprises down the road," says Hicks.
A contract should have detailed time frames, the total cost, payment arrangements, your contractor's license number, the project description, names of parties involved, and how to handle additional costs if necessary, explains Hicks.
She also recommends reading the fine print carefully, whether it's for a one-time service or a six-month renovation, and to not be afraid of asking for edits or clarifications before signing.
"Signing a contract that you haven't read, or one that you don't understand, can be just as risky as not having a contract at all," she says.
Start an emergency home repairs fund
It's never too early to start an emergency home repairs fund. Hicks recommends opening a savings account that's attached to your checking account, and setting up automatic transfers from checking to savings every month or pay period.
"'Plan for the worst but hope for the best.' This is true for many things, including your home. Repairs can be costly and unpredictable, so starting and regularly contributing to an emergency fund will leave you covered, just in case things go wrong," says Hicks.
Get an annual home energy audit
A home energy audit helps assess how much energy a home consumes and can also show ways to improve efficiency and create more comfort in your home.
"Think of an energy audit as your home's annual physical," says Hicks. "It will help to pinpoint any areas that aren't running as efficiently as possible and, in turn, are wasting your money. Correcting these energy issues can result in lower utility bills and create more comfort within your home."
Know where your plumbing shut-off value is and how to use it
If a pipe bursts and starts spraying water all over your house, you're going to want to know where your home's emergency water shut-off valve is.
"The water system is one of the most important things in your home," says Hicks. "In case of a water-related emergency, the first step is typically to get the water shut off as quickly as possible. Familiarizing yourself with your system can save you time and money and avoid costly repairs from water damage."
Have a home emergency supply kit
Every home should have an emergency supply kit full of water, a flashlight, nonperishable food, extra batteries, a battery-powered radio, and a first-aid kit. Should a natural disaster leave your house badly damaged and without power for a week, you'll be grateful you were prepared.
"Bottom line: It's better to be safe than sorry. Knowing that you have a system in place in case of emergencies will provide you with peace of mind and keep you and your family safe," says Hicks.
Source: SF Gate