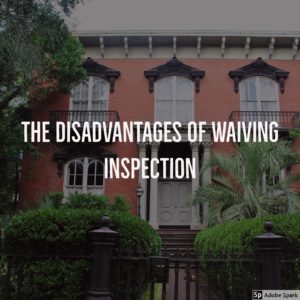 It can be tempting to waive an inspection when you're feeling pressure to buy a house or feel strongly about owning a specific one. But this can really be a detriment to you. Repairs needed at the point of the sale but that fall on you later can be quite pricey.
Not being able to see a problem doesn't mean there isn't one. It's imperative to bring in a professional, and to keep things in perspective: this is an enormous purchase and you want to make smart choices about it.
Before the Sale
One option is to have the home inspected even prior to either making an offer or to solidifying a contract. If the house does not end up working out, you have only expended a relatively small sum. If you do end up making an offer on the house, you can then dispense with the inspection contingency.
If the Seller Pays
In some cases, a seller chooses to conduct their own inspection. This allows them to repair things in advance or tell prospective buyers what to expect. However, the seller is not legally responsible to you if they have financed the inspection. Therefore, you are on the hook if their inspector overlooked something.
If There is a Short Timeline
It's possible that the process of buying a house moves very quickly once an offer is made. You don't want to miss out on being able to do an inspection if this is the case. Inspections can be pre-scheduled by a couple of days; this is something which your agent can assist with. Putting this into the contract can make both you and the seller feel comfortable.
Source: Zillow