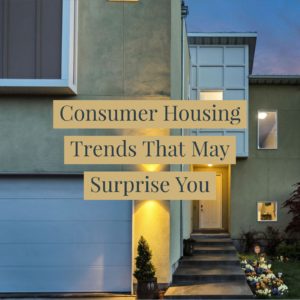 Online real estate database company Zillow compiled a wealth of data on home buyers, sellers and renters in the Zillow Group Report on Consumer Housing Trends 2018. Regardless of whether you're looking to buy or sell a home, understanding the market is a key step towards ensuring your goals are met.
Here are some of the top consumer housing trends that might surprise you:
Millennials or bust
Millennials, who are now between the ages of 24 and 38, comprise 42% of the nation's home buyers and 61% of first-time buyers. Younger generations tend to place greater importance on neighborhood diversity than older generations, with 42% of millennials saying that living in a racially diverse neighborhood is very or extremely important to them. Compared to just 18% of boomers saying the same, it's clear that the values driving home buying are changing from generation to generation. Given the high percentage of buyers that are millennials, shifts in preferences will likely continue to take place.
Suburban homeowners are different
While the average rural home seller lists their home for an average of 4.1 months before selling, suburban dwellers sell their homes in just 2.6 months.
Despite the fact that sellers often seem to have the upper hand in today's housing market, 83% of sellers make some concession with buyers in order to close the sale, with 41% having at least one offer fall through.
Millennials in the suburbs
Contrary to their reputation as urban denizens, 55% of millennial homeowners live in the suburbs, while only 23% live in rural areas and 22% in urban areas. Like with many data points collected in relation to the real estate market, the numbers often defy expectations.
Renters can't afford it
Unexpected expenses, while unfortunate, have a tendency of coming up regardless of how well you plan. It's crucial to have a safety net, preferably equivalent to six months of expenses, to ensure that you can make it through the inevitable bumps in the road.
Unfortunately, 48% of renters can't accommodate an unexpected expense of $1,000 without then being unable to pay their rent. The situation is more precarious for rural renters: only 36% say they could come up with the money to cover that same expense.
Source: Zillow