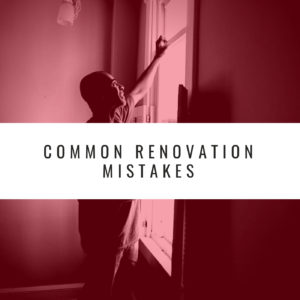 If you're thinking of taking on some home renovations on your own, you should definitely read this first- especially for those who are inexperienced, as mistakes can happen easily.
Below you'll find some of the most common mistakes people make when renovating their homes. But don't worry- you'll also learn how to avoid them!
Underestimations
People frequently misjudge the amount of time and money it will take to get a job done. Once you've projected these factors, it's a good idea to add a buffer. It's easy to get caught up in the excitement and think you'll be done in no time and with a small budget. Watch out for this!
Judging ability
It can be tempting to want to do everything yourself, but it's important to know when to bring in a professional. Considering calling in professionals for tasks like plumbing or electrical work.
Inspections
It's important to check the work of contractors before paying them. Make sure it's done in its entirety and to your satisfaction.
Thoroughness
When you're doing things DIY, make sure to be thorough and not hold back on the required cost to get it done. It's important to be detail-oriented and to get the job done well.
Source: House Beautiful