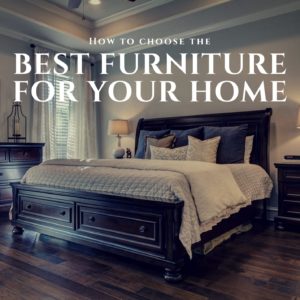 When it comes to picking the right furniture, it can be tough to know where to start. Should you look for something sturdy and expensive, or light and cheap? Should the colors match the paint in your home, or should you focus on individual pieces that look good on their own?
Regardless of where you live, how large your home is, or what you've bought in the past, there are some basic rules of furniture purchasing that will make the task much easier to complete. Here's how to choose the best furniture for your home:
Construction
Your furniture should feel solid and heavy- no question. Avoid particleboard or light aluminum frames, and stick to solid wood whenever possible. Be sure to also sit on the furniture you're looking at before purchasing it, as the beauty of your new upholstery piece isn't worth the cost if it isn't comfortable.
Silhouette
Make sure you choose a piece of furniture that has a shape that you'll love. With that said, you should never choose something that is shapeless or without style. There are plenty of modern options on the market that will provide the shape and support you need.
Finish
If your piece has exposed wood, choose the perfect stain or finish color. Lots of furniture can be dramatically altered by the color of the finish. Quickly transform a traditional chair into a contemporary piece by replacing a cherry stain with black paint.
Fabric
You can place lighter colored fabrics almost anywhere: a formal living room, foyer, bedroom, and so on. However, if you tend to use this piece of furniture a lot, you might want to choose a darker shade to prevent stains.
The Unexpected
Choose furniture that has a bit of personality, something extra. Perhaps it's an unconventional shape, some interesting tufting, or nail design. Just make sure your personal style is reflected in whatever you choose.
Source: Apartment Therapy