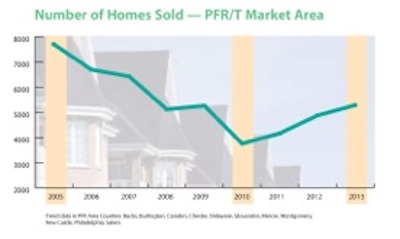 The Prudential Fox and Roach Fall 2013 Chairman's report is out and it's chock full of great information about the state of the Real Estate Market. From the intro to their report:
It's surprising how quickly the market changed! It seems like just yesterday that there were too many houses for sale and not enough buyers. Now we're in the midst of the busiest real estate market in years. The bottom of the market is clearly behind us, and it is a great time to buy or sell a house. But conditions won't be this good for long. Though sales are ahead of last year, it appears this brisk pace is slowing. And, as the economy continues to improve, home prices and interest rates will continue to rise, and overall buying power will decrease. The bottom line is this: if you've been considering a move, now is better than later. You can afford more in this current climate than when things shift.  
The full report is absolutely worth a read, but here is how they sum things up:
What does this all mean? Simply put, these changes in market conditions — which began last year and have made 2013 a terrific year in real estate thus far — have thrown that long-awaited window wide open for buyers and sellers. But who knows when it will begin to close? If your life circumstances dictate a change in your current housing situation, now is a great time to sell and move up or to buy your first home.
You can contact Anne Koons today to reap the benefits of today's market!