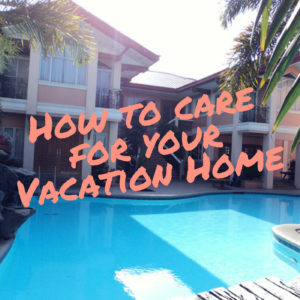 When thinking about buying a vacation home, it's important to consider how you'll maintain it. Any home requires upkeep, and emergencies can happen.
Your three primary options when it comes to maintaining a vacation home are hiring a property manager, bringing in a local caretaker, and taking care of it yourself. There are pros and cons to each; check them out!
Professional property managers
Using a property management company can be quite pricey, but the advantage is extreme convenience. They can handle all of the logistics of opening and closing your home. They will manage staff for your home's upkeep, as well as the steps for renting your home out (if you've chosen to go that route). Additionally, they'll be the ones to handle any emergency that may arise.
Neighbors may have good recommendations. It also speaks well to a company's legitimacy if they're part of a trade group. These companies generally charge 20%-60% of the amount you rent the property for.
Local caretakers
A local caretaker can take the form of a housekeeper or handyman. This option is good if you don't need someone to take care of renting out your property. Their responsibility is to periodically check in on your home to make sure everything is functioning properly.
The cost depends on the size and location of the property.
Again, feel free to ask neighbors for recommendations. It's also a good idea to check if the person you are hiring is bonded and insured.
Make preparations on your own
There are proactive things you can do on your own to prepare for potential problems. Home maintenance goes a long way, but emergencies still happen.
Research repair companies in advance so you have a list ready. This list should include various repair services: plumbing, contracting, and exterminating.
It's also important to install keyless entry. This will allow anyone who needs to enter the property to do so on their own, whether it's a repair person or a neighbor checking in on things.
Source: Houselogic