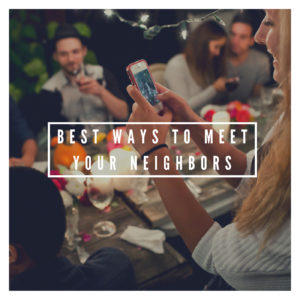 Moving to a new place can feel lonely and disorienting. Whether you're outgoing or reserved, a great solution is getting to know your neighbors- especially when you're missing those you left behind in your old neighborhood.
Here are the best ways to meet your neighbors:
Just say hello
Go old school and just start up a conversation with your new neighbors! However, this might be more difficult for those who are shy. If so, you can work up to knocking on the door: wave casually when you're driving bye.
Consider timing. You don't want to interrupt a meal or knock loudly after children are asleep. If you see them outside, approach them there! Otherwise, try a weekend afternoon when people are generally feeling calm, positive, and friendly.
Write a note
If you're not feeling ready to approach your new neighbors, try writing them a note! You can leave a short note for each home you would like to get to know, with a brief introduction and an invitation for a cup of coffee or glass of wine. It's best to individualize each communication with something you've noticed about them and making a connection to it; for instance, if you've seen them walking their dog, you can say that you're also a dog lover.
Meet at the bus stop
If you have a younger child, walk them to the bus stop at the beginning of the school year. You are likely to meet other local parents there. Talking about kids is the perfect icebreaker, so no need to be concerned about awkward silences. If you connect well, you can even invite them over for a family get-together.
Take your dog out
Dogs are super friendly, and they're great facilitators of human friendships. You'll be sure to meet other canine fans at the dog park, where you can chat about the best vets, parks, and trails. Merely walking your dog in the neighborhood will likely elicit friendly conversation. After all, who doesn't love dogs?
Join a book club
Book clubs are awesome ways to meet new people and make new friends. Check out a local library or bookstore to find out if there's one near you! Reach out to the host to offer to bring snacks or wine. And make sure you show up with some insightful thoughts about the reading.
Plan a block party
Once you're a bit more settled in your new area, suggest throwing a neighborhood block party. Take charge of some of the planning aspects, while asking neighbors who know a lot of people to spread the word.
Try coordinating the party with the time of year: barbecues for summer, cider and doughnuts for fall. You can even suggest making it a tradition!
Source: Zillow