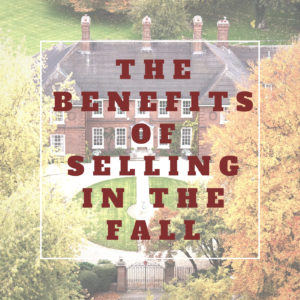 If you're feeling stressed because the summer's over and you still haven't put your house on the market, don't worry! There are so many benefits to selling in the fall. This season provides the perfect backdrop for getting your home sold before the year is over, and here's why:
Buyers
Springtime means an abundance of homes on the market. This gives buyers an opportunity to be choosy and wait longer before making an offer on a home. But come fall, these buyers really want to buy a home!
Get ready for these buyers looking at your home by upping your curb appeal. Be sure to tidy up, and remember to clean the gutters.
Less competition
A lot of sellers aim to close on their sales by the end of September. This means that there will be far fewer houses on the market than there were in the summer.
Capitalize on this time of year by using the summer to take beautiful and bright photos of your home. Use these when creating your listing, rather than photos taken in the dreary fall and winter months.
Target demographics
Certain groups of people tend to shop for homes more in the fall. This includes millennials, empty nesters, and employers relocating their employees.
These different groups look for different things in a home. Emphasize the versatility of your property and the different options for your rooms.
Home improvements
Use spring and summer to make repairs on your home. Make sure you schedule time for these improvements when the weather allows for it. This will make your home selling-ready in the fall!
Source: advicebyowners.com