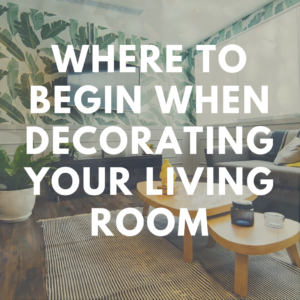 Decorating the most central room in your home can be a daunting process, especially for a first-timer. Take these steps to jumpstart your living room redecorating process:
Take stock
Step back, and with a fresh eye, look at the furniture and decor that you have. Remove all furniture that is damaged, outdated, too large, too small, and even that one item you just don't like anymore. These are space-wasters. If you have an important family heirloom that you don't want to give up, or a piece that is gorgeous but doesn't fit in with the space, find a new spot for it somewhere else in your house. You might also want to consider donating any unwanted items or hosting a yard sale- this way, you can put that extra cash towards your redecorating project.
Choose a color palette
These can really set the tone for your room. Blues and greens have a calming effect, while warm, vibrant colors (think red, yellows and oranges) tend to be energizing. A neutral color scheme featuring whites, tans and grays can be a canvas for bright, bold accents. They can also be left alone for a modern, minimalistic touch.
Additionally, make sure the colors coordinate. Think about using different hues of one color, using complementary colors (like orange and blue, or green and red) or colors next to each other on the color wheel (such as red and orange or blue and purple). But most of all, pick colors you will absolutely love seeing everyday.
Pinpoint your style
Take the time to scour blogs, magazines, or even Pinterest to find your ideal style. If you enjoy clean lines and exposed wood grains, you might like mid-century modern. If slipcovered seating or painted wood appeals to you, you may love country decor.
Once you have figured out what style you prefer, now comes the fun part: going furniture shopping! Start with the bigger items- a sofa, rug, and entertainment center- since they take up the most space and are the room's focal points. Make sure these items coordinate with your color scheme, aren't too large or too small for the room, and reinforce your desired style. If you have chosen to decorate in a modern style, don't buy a traditional sofa. It will only create confusion.
Remember, when decorating your living room, there are no rules except that it has to express you and your personality. Be creative, and most of all, have fun.
Source: Wayfair