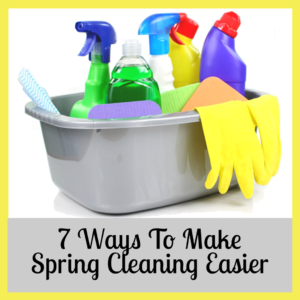 Now that spring is arriving, don't allow a musty, dingy home to ruin it. Here are seven tips to give this season the welcome it deserves and to make this yearly chore just a little bit less of a hassle.
Clean the Fridge
There's no need to buy expensive, abrasive, and possibly poisonous refrigerator cleaners. Go natural! The best refrigerator cleaner is a combination of salt and soda water. The bubbling action of soda water, combined with the rough texture of salt, makes for a cheap and effective cleaning solution.
Remove Lime Buildup
One of the best and simplest ways to remove lime buildup around the faucet in your bathroom or kitchen is to lay paper towels over the area. Then soak it with white vinegar (so as to prevent stains and save money) and let it sit for an hour. The vinegar's acids will break down the lime deposits, allowing them to soften. Going in with a sponge or towel will then be that much easier.
DIY Window Screen Cleaning
Don't buy specialty products to clean your window screens- all you need is a scrap of carpeting! If you don't have any laying around your home, stop by your local home improvement store and buy a sample. The densely packed carpet fibers make for a powerful brush that can remove all of the dirt from your screens without your having to rub too hard.
Washing Windows
All you need to clean your window is a rag and soapy water. After conducting a quick clean, dry the window at hand with another rag to remove any soap buildup.
To make the job a bit easier, you can also purchase a windshield squeegee at your nearest auto parts store for a fast, effective cleaning.
Clean Your Drapes
Are your drapes looking drab? Take them out of the window and remove all of the hooks. Then, place them in your dryer, and stick to one at a time if they're especially large. Run them through the dryer on the air-fluff cycle for 15 minutes, along with a wet towel, to draw off the dust. Afterward, hang them back as soon as possible so they don't wrinkle.
Polish the Ceiling Fan
In order to clean the blades of a ceiling fan, you need to cover them with a light coat of furniture polish. Just read the label carefully and make sure your type of polish works with the material of your fan. You don't want to risk staining it. Once you are sure the two products jive, apply the polish, wipe off the excess, and lightly buff. Your fan should now look brand new.
Air Out Your Covers
Comforters, blankets, and pillows don't always need to be cleaned, though they should be aired out after a long winter in your home. Take them outside and hang them on a clothesline or railing for a day to get rid of any mustiness.
Spring cleaning can be an arduous task, but these tips will make it just a little bit easier.
Source: HGTV