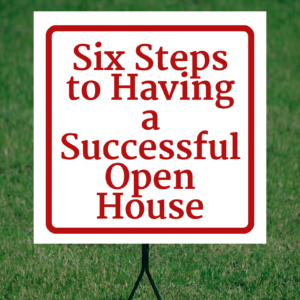 Is your home ready to hit the market? If so, one of your first tasks is setting up an open house, ready for buyers to view. If you're worried that people won't show up or that they won't like your home, don't worry- there are a number of steps you can take to make sure your open house is a home run. Here are six:
Make a Good First Impression
Be sure to freshen up your garden and landscaping. Consider investing in new exterior paint, a new mailbox, and even a house humber. Clean the driveway and walkways. Get the cars out of the driveway and out from in front of the house. Little details count for a lot, so don't let them fall by the wayside.
Clean, Clean, Clean
One of the easiest and best ways to instantly transform your home is by cleaning it. Your house must be in pristine condition during an open house. Any bit of dust or grime might compel buyers into thinking there are worse damages around the corner. If possible, consider hiring professional home-cleaners to wash your windows and clean your carpets, among other things. Otherwise, get your buckets and rags ready.
Remove Personal Items and Pets
Homebuyers want to walk into a house and imagine it as their own. Seeing family photos or your children's art on the refrigerator door will make it difficult for them to do so. Furthermore, dogs, cats and other pets need to be removed during your open house. This brings more attention to little fido than your beautiful home and can distract buyers. If pets cannot be removed, keep them corralled to a specific area of the home.
Spread the Word
Make sure your open house is listed using as many mediums as possible: listing services, Craigslist, major real estate portals, and so on. You can even spread flyers to nearby posting boards and send them through neighborhood email lists. Utilize your friends and make them aware of the open house. Promote the event on social media. Don't just put a sign on your front lawn- place them on nearby intersections and use balloons to make them more visible. Simply do whatever you can to get people into the door.
Protect Your Belongings
Your real estate agent cannot be in charge of every single belonging in your house. Lock up any valuables in your home, as you can't trust every person who enters an open house.
Provide Information
Any good real estate agent will provide information for prospective buyers to take home with them. This should include a brochure or flyer with a photo of the home on it, and possibly comparable home sales. After all, this is not the only open house the buyer will be going to, and it will be hard to remember each and every one of them. You want to make sure that your home is the one that stays on top of mind.
Source: U.S. News & World Report