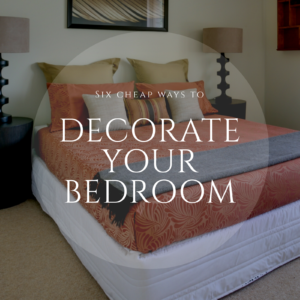 Decorating a bedroom can be an overwhelming task, for a number of reasons. It's difficult to know where to start, how to maximize space, what trends to make use of, and how to make a budget last. The process as a whole, however, can be tackled in an efficient, orderly way. Here's how:
Move the furniture
While moving the furniture in your bedroom is one of the simplest things you can do, it will make a significant difference to the room's look and feel. Most of all, it doesn't cost a cent. Consider putting your bed against a corner instead of a wall, as this can provide the space with a more elegant, homey, and intimate touch.
Change the walls
The easiest way to change your walls is to, of course, paint them. While it's better if you paint the room a new color, even if you simply put on a fresh coat, it'll make a major difference in how the room feels. However, you don't have to physically paint the walls to change them. Rather, you could put up a gorgeous wallpaper border or even stencil in some designs. Borders at the very top of walls give a more modern, artsy finish, while creating a more rich, old-fashioned, and elegant look in the middle.
Change the bed
Without buying a new bed and spending hundreds of dollars in the process, consider buying a new comforter, duvet, bedspread, or even a new set of sheets and pillow shams. If you're only able to buy a few items, change the bed covering and pillow shams, as they'll make the largest difference.
Hang prints on the wall
Place framed pictures, artwork, or even posters onto your wall in a decorative and coordinated manner. They don't have to be expensive, and oftentimes, you may already own photos or prints that simply need new frames and mats. Whether you showcase your family or your favorite colors, make sure these items are truly personal to you. This will only make the room feel more special.
Put out vases filled with flowers or greenery
You don't have to be a design wizard to create floral arrangements. Just find a pretty vase, glass, or jar (sometimes the best-looking ones can be found at the cheapest price point) and buy a handful of silk, plastic, or fresh flowers and greenery. Be sure to choose colors that compliment the other colors in your room.  
Put in a new lamp
Not only are bedside lamps cozy, they can be quite useful as well. Smaller bedside lamps or even nightlights can be fairly inexpensive, as long as you take the time to compare prices and find the best deal. You can even put on new wall sconces around your bed, dresser, or on opposite sides of a wall mirror to add some more elegance to your room.
Have fun decorating!
Source: The Budget Decorator