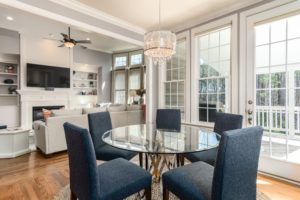 It's possible to spend tens of thousands of dollars sprucing up your home before listing it for sale, to increase its value to potential buyers. And oftentimes, that kind of expenditure is well worth it. But it's also possible to spend nothing – or next to nothing – and still significantly enhance the perceived, and indeed the actual, value of your home.
If you're disinclined to invest serious money in the house you're about to leave, yet still determined to maximize your take from the sale, here are seven things you can do right now.
1. Declutter
Real estate agents will tell you that clutter is one of the primary reasons home-shoppers looking at properties will turn on their heels after entering a house, and leave. Your possessions may be priceless to you, but to potential buyers they're an obstruction and a distraction – one that negatively impacts their perception of your home, and decreases the amount they're willing to pay for it.
The minute you decide to sell, plan a garage or basement sale, begin to clear out the attic, donate clothes and toys to charity, and call the junk man. Be ruthless. When it comes to showing your house, less absolutely is more.
2. Accentuate storage
One of the side benefits of decluttering is that it opens up areas in garages, basements, closets, and attics that would-be buyers will view as valuable storage space for their own belongings. That's great – because storage sells!
3. Do a major cleaning
You may keep an orderly house, but before you put it on the market your home should be more than just "straightened up." Rent or borrow an inexpensive steam-cleaner for carpets; take down and brush window screens to remove dust and pollen; carefully vacuum heating and air-conditioning vents, changing filters if necessary; and wipe down window blinds or shutters. In the kitchen, make sure the oven, cooktop, and range hood are grease-free, baseboards are unscuffed, and that you can eat off the floors.
Any real estate agent will tell you: an immaculate house will always sell.
4. Lighten up
Literally. Make sure every room in your house is maximally illuminated during showings – either with overhead lighting, table lamps, task lighting, or via sparkling-clean windows and skylights that let in not just daylight, but fresh air. And ditch the heavy curtains and draperies. There shouldn't be a single dark corner in your house.
5. Don't forget outdoor space
Two- or three-season outdoor spaces that strike home-buyers as welcoming and useable are immediate value-boosters. If you've got a deck, patio or garden area, don't let it stand idle while your house is being shown – rent or borrow attractive weather-proof furniture and create a value-enhancing outdoor room.
6. Address curb appeal issues
It's astonishing how many sellers don't bother sprucing up the outside of their house, and yet the value of curb appeal is pure common sense. You don't need to repaint or re-landscape. Simply mow the lawn and fill-in brown spots with sod, grass seed, or yes, green non-toxic spray paint designed for turf spots. Trim hedges and trees, remove dead bushes and shrubs, mulch flower beds, edge and sweep walkways, dig up weeds, and rake up twigs and debris. It may also be worth it to borrow a pressure-washer for the sidewalk and driveway.
7. Create another bedroom
If you have an "all purpose" or "bonus" room whose use is vague and undefined, consider staging it as a bedroom or guest room. Bedrooms are money-makers, and an additional one will automatically make your house worth more in buyers' minds!
Once your home is camera-ready, it's important to list it with a seasoned real estate agent to ensure you receive the maximum return on your investments!
Source: PhillyVoice.com