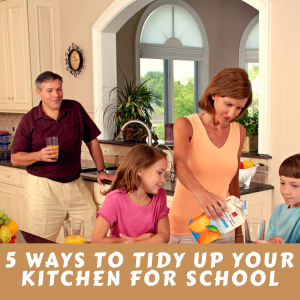 As the new school year begins, new routines (school lunches, after school snacks, weeknight dinners, and the like) threaten to send your kitchen into chaos. Get organized and start the year with easy cleaning habits!
Start a Snack Station.
Clear a pantry section or kitchen drawer that's low enough for kids to reach. Keep small snacks in clear bins so everyone can see what's inside. That way, everyone can get snacks easily.
Use Undercover Containers.
Want more pantry or cabinet space? Hook an undershelf storage basket onto a pantry shelf and stash your goodies inside, so that you can keep your countertops neat and organized.
Crack the Code.
Color code your childrens' lunch boxes and food storage containers so they never pick up the wrong items on hectic school mornings. Assign one color per child, then find lunch boxes and food storage containers to match. As an added benefit, your cabinets and shelves have a new pop of color!
Make a Wish List.
Place a small dry-erase board or a chalkboard in your kitchen (bonus points if it matches your decor) for all family members to add groceries they'd like in the house. Take a picture of the board next time you go grocery shopping!
Get in the Zone.
Designate one area of your countertop or dining table as the "lunchbox zone." When the kids arrive home from school, they can place their lunchboxes here. Fill up the lunch boxes with items from the fridge and the pantry whenever you have free time.
Source: Good Housekeeping