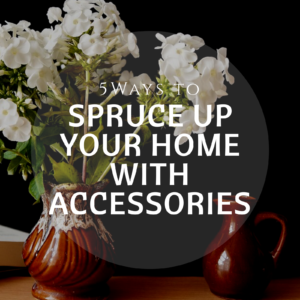 Small decorative items and accessories can make a huge impact on a room's overall look and feel, and are often some of the easiest and most inexpensive ways to change the ambiance of a room. Because they can be so easily obtained, however, an abundance of tchotchkes can overtake a home in no time.
Here are five easy, effective ways to spruce up your home with accessories:
Choose quality over quantity
Mass-produced accessories are fairly cheap and are readily available at a home goods or department store, but they might not be the best representation of you (and thus not worth filling your home with). Less is often more when it comes to accessories, and one unique piece that means a great deal to you will likely work better than tons of tiny knick-knacks.
Choose right-sized accessories
It's quite common for homeowners to place accessories that are of the wrong size in a particular room, from a tiny rug in a massive space to a huge piece of art on a small wall. Before buying an accessory, make sure you know where it will go and whether it will fit with the room you're planning on putting it in.
Combine textures and colors
While you'll want to use neutrals in large furniture items and other permanent spaces, inexpensive accessories can add a pop of color and a variety of texture to an otherwise uninteresting space. You can also switch out these accessories in accordance with your mood, preferred style, and season.
Consider asymmetrical design
Fireplaces are often decorated with an art piece in the center, flanked by candles or vases on each side. However, this type of symmetrical arrangement can make your room a snooze fest. When arranging accessories, go for balance instead of symmetry, and if possible, group smaller items in odd numbers likes threes or fives.  
Add accessories in layers
Think of accessories like you would decorations on a cake. Place large accessories first and limit the number you choose. Then, fill in and add balance to the space with medium and small-sized accessories. Several small accessories can take the place of a larger item when they are grouped together. But remember, leave some breathing room – not every spot in a room needs to be filled with decor.
Source: The Spruce