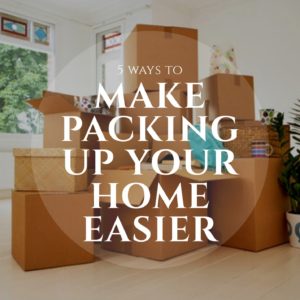 Have you made the final leap and decided to move? This task can be overwhelming, between the cost involved and time spent, so many people avoid it like the plague. Perhaps the most difficult part of the process involves physically moving your belongings from one property to another, but thankfully, there are a number of things you can do to make it run smoothly.
Here are five ways to make packing up your home easier:
Make a Packing Supply List
In order to make sure your items arrive to your new destination without a scratch, create a packing supply list. That way you can get the right boxes, tapes and other supplies. In order to save money and help the planet, consider getting used boxes instead of buying new ones. You can often find them for free at your local recycling center.
Have a Packing Room
Choose a used room or corner of your home and designate it as the packing zone. This is where you can put all of your supplies: different sized boxes, good thick markers, packing tape, newspaper, bubble wrap and more.
Don't Pack Heavy
Use your larger boxes for lighter items like clothes and your smaller boxes for heavier objects like books. You'd be surprised by how many movers shove heavy items into large boxes until they weigh heavy items. Not only can it break your movers' backs, but it wastes time as well.
Don't Pack Air
Many people empty out their dressers and chests before they move, but by leaving them full of lighter items, you'll save time without making the furniture too cumbersome to move. Additionally, you'll end up saving usable moving space.
Pack Your Items By Room
Rather than sorting your objects and labeling your boxes by category, like toys or books, group your items by the room they will be placed in in the new house. Place all of your children's toys, books and clothes together. This will inevitably make moving and unpacking easier, as you'll already know where everything is supposed to go.
Source: The Denver Post