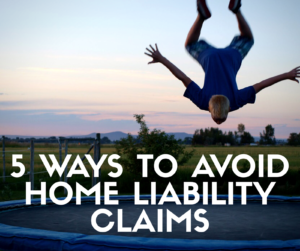 Did you know that it's the property owner's responsibility to prevent injuries to people on their property? Common injuries include falling and slipping on an icy sidewalk or a piece of debris. Resulting medical and legal bills can be exorbitant, and that's why it's important to have liability coverage on your homeowner's insurance policy (while also taking any preventive action you can).
Here's how to keep your guests safe in your home and avoid liability claims:
Clean Your Home
Clear toys, shoes, or anything that might block a clear path for walking in hallways and stairways. Also, keep all driveways and sidewalks free of snow, liquids, and ice. Even better, use non-skid rugs outside of bathtubs, showers, entrances, and exits. Make sure all stairs, halls, and entry and exit points are well lit.
Prevent Drowning
If you're planning on throwing a pool party, hire an off-duty lifeguard and make sure parents (who are good swimmers) monitor their kids while they're in the pool. You can even give inexpensive arm floaties and water noodles as party favors to the kids. For when you're not using the pool, install a gate that can be locked, a secure pool cover, and a movement-detection alarm. Drowning is the second leading cause of injury-related deaths for children under fourteen. Unfortunately, if it happens on your property, you'll be liable.
Childproof Your Home
Attach covers to sharp furniture and countertop edges. Install safety gates at stairway bottoms. Keep hot plates, detergents, candles, and pill bottles high up so children can't reach them. Cover electrical outlets. Most of all, move furniture away from children so they can't climb up them.
Train & Socialize Your Dog
Make sure your dog is well-equipped to deal with children, strangers, and other animals. Unfortunately, if your dog bites someone, your insurer is likely to raise your premium or even exclude your dog from the policy.
Put Away The Trampoline
Maybe even avoid buying one altogether. There are more than 100,000 major emergency room visits attributed to trampoline injuries every year. Furthermore, some homeowner's insurance companies see trampolines as major risks and might raise your premiums if they know you own one.

Unfortunately, even if you're exceedingly careful, accidents can happen and people may sue. Make sure your home liability insurance can protect you, and if an accident does occur, don't panic. Offer assistance to the victim, document everything, and contact your insurance company.
Info provided by homeinsurance.org.