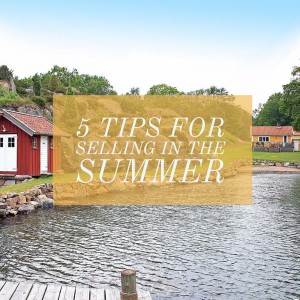 It's early June, and we're officially in the thick of the housing season! If you're one of the millions of Americans interested in selling your home this Summer, there's a lot you'll need to know to make sure you'll get the price you want on the timeline that works with your schedule. We're in housing's peak season, and with so much activity going on, it can be easy to get lost in the chaos if you don't know what you're doing.
Here are the most important things to know if you want to sell your home in the Summer:
Busiest Month
The volume of home sales in June is typically 29% above the annual average on a national level, and in July and August, inventory continues to climb as some sellers miss the sales peak. Many homebuyers start their search in March and April, though they usually get down to business after Memorial Day. Many people want to move in Summer when school is out and the weather is good, and more buyers are ready to close deals in the Summer than any other time of year.
Inside Out
Now that you'll be spending more time outdoors, use it to your advantage! Living space isn't defined by the interior walls of your home, but actually extends to the sidewalk in front to the property line in the back. Make your outdoor space inviting, stage a barbeque area, and if you have a pool, include rolled white towels and a terry cloth bathrobe draped by a Jacuzzi. The big takeaway is: be creative!
Keep it Flowery, Keep it Green
Summer presents its own set of challenges and opportunities for curb appeal. Typically, more work goes into maintaining the outside of your home in the Summertime than in the Winter, so stay on top of everything from watering your lawn to weeding your flower beds. Warm weather affords the opportunity to create an inviting front yards with beautiful flower beds (a must-have for Spring and Summer home sales), and if you're not sure where to start, just keep it simple: choose one color and stick with it.
Keep it Cool
For every showing or open house, make sure your air conditioning is working and turned on before any guests arrive. You'll want your home to feel like a cool oasis in the Summer, and you might want to consider setting your thermostat a few extra degrees lower than usual to compensate for all of the doors opening during prospective buyers' entries and exits.
Summer Treats
Buyers typically find themselves to be hot and sticky after spending hours looking for homes in the Summer, so break out the pitchers of ice water with lemons so they feel better when spending time in your home. The longer potential buyers hang in your home, the more they'll become attached and want to make it theirs.
Source: Forbes