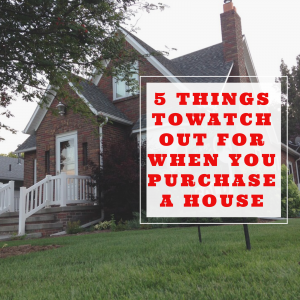 More and more homebuyers are back on the market. However, homes that are on sale have a great range of physical attributes- some are stunning, while others have something to be desired. The home-buying process can be overwhelming, but knowing what to watch out for before getting started should make it much less stressful.
Here are five things to watch out for when buying a home:
Don't get fooled by beautiful (or ugly) wall colors.
Picture the house with your favorite color wall paint. Instead, focus on floor conditions, age of the appliances, and signs of mold or structural damage.
Pay attention to the age of the furnace.
Old heating or cooling systems can cost thousands of dollars if you have to replace them soon. This should definitely impact the price you are willing to bid on the house.
How old are the windows?
Newer windows are a major perk because it helps to lower heating and cooling bills.
Check out the roof even before you enter the house.
Is it relatively new or is it caving in? Roofs cost a lot and you definitely do not want to pay for a new one after moving in. As with the furnace, this should impact the price you are bidding on the house. Even worse, a caving roof may be a sign of water damage.
Check for water damage.
If water is leaking from the outside, you will most likely see mold on the edges of basement walls. Take a walk around outside to see what may be the cause, so that you can see how much it may cost, and bid appropriately.
Regardless of the type of house you choose buy, focus on structural integrity rather than decor. It's much easier to fix up wall paint than a cracked foundation. Have fun house hunting!
Source: Trulia