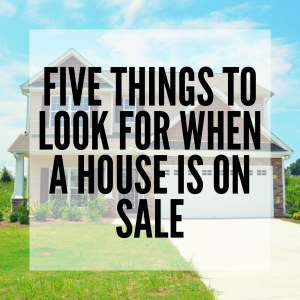 If you're now in the home-buying process, congratulations! It can be lengthy and stressful, but if you play your cards right, you can end up with the home that meets all of your needs (and then some).
A lot goes into the journey of buying a home, such as finding an agent, narrowing down your criteria, establishing your priorities, and going out on the hunt. If you're to come across a home that's at a substantially lower price than you would have thought, it's important to revisit your priorities, talk to your agent about the property, and keep an eye out for a few factors that could make or break your decision to buy it.
Here are five things to look for when a house in on sale:
Location
You can change almost any imperfection in a home, but the one thing you can't change is the location. When you go house hunting, consider any potential home's proximity to your work, the charm of the neighborhood, how the home is situated on the lot, ease of access, noise from neighbors, traffic, and pets, as well as access to parks, shopping, schools, and public transportation.
The Site
Is it on a hill? Does it have a view? A walkout basement? Is the yard good for kids, pets or gardening? Do you have enough privacy? Make sure that the site suits your liking, because like the location, it is difficult (and expensive!) to change.
Size and Floor Plan
As much as we'd all love to buy our respective dream houses, it's important to think practically. Do you really need five bedrooms if you only have one child? The extra space can be used for office areas or art studios, but take money into consideration as well. You'll have to pay extra in property taxes, heating bills, and furniture to decorate your new place if it's larger than your original target home.
Bedrooms and Bathrooms
Determine how many bedrooms and bathrooms you really need and look for houses that best suit your criteria. It's awful to fall in love with a property and then realize that it doesn't meet your needs.
Closets and Storage
Older homes tend to have smaller closets and not as much storage space. If you have lots of holiday decorations, sports equipment, or art supplies, make sure you know where everything is going to fit. You can always add more closet space, but keep in mind that you'll have to sacrifice living space.
Keep these tips in mind during the house-hunting process, and good luck!
Source:  The Spruce