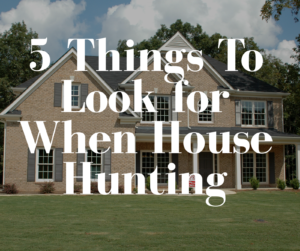 Many home buyers enter a house and spend their time passively looking around at the layout and types of appliances in the space. While these are valuable aspects to observe, smart house hunters know what's truly important to a home. Here are five things to look for when house hunting:
An Abundance of Smells
Don't let those freshly baked cookies fool you. Oftentimes, the more aggressive the scent, the more likely the seller is trying to hide something. Take a quick sniff in every room you step into. Bad smells are often a sign of pet accidents, mildew, or mold.
Poor Tiling
Check for choppy tiling in the kitchen and bathrooms. If you know that the home was flipped, there's a good chance that much of the space was remodeled in a DIY fashion. While the practice isn't inherently bad, poor tiling can serve as a warning sign for damage in other parts of the home.
Nearby Water
While the nearby creek or small river might look beautiful, it won't seem that way if it comes cascading through your door. If you're moving into a flood-prone area with unpredictable weather, you'll need to consider the possibility of flooding. Flood insurance can be costly, and fixing flooding damage if it does occur can cost up to thousands of dollars to fix in the absence of insurance. Before buying, ask yourself whether the beautiful body of water nearby is worth the risk.
Improper Ventilation
You may be at risk for allergies or mold if you don't have adequate interior ventilation. Look for condensation, peeling, or bubbly paint around windows, doors, and vents. These are signs for moisture around the walls or ceiling drywall.
Foundation Issues
While many houses contain hairline cracks, which indicate that the house is still settling into position, larger gaps may be a sign of a much larger issue in the home's foundation. Look for sticking doors or windows, cracks above window frames, and uneven flooring. When checking out the home, bring a marble and see if it rolls from one wall to another. This is an easy way to check for uneven floors. Foundation issues can cost a lot of money and delay your move-in day by weeks, so make sure your dream home doesn't have any before signing on the dotted line.
Source: Realtor.com